NRB ENTERPRISE, Our GI Earthing Rod, High Mast Pole, High Mast Lighting Pole, and other products are applauded for excellent durability and smooth working.
Customers opt for such products, which meet their expectation of quality, durability and cost-effectiveness. Knowing these considerations, we,
NRB Enterprise
present before customers a highly functional range of electrical items that is quality best, longer serving and cost-effective.
Our
High Mast Pole, High Mast Lighting Pole, Polygonal High Mast Pole, GI Earthing Rod, ESE Lightning Arrester
along with a host of other electrical products prove valuable as they work smoothly. They have smart technology and supreme components in them to run better and longer.
The method applying which these products are made is also advanced which is why we commit to our customers for getting a matchless quality range of products. Through quality production, we, a
2015
formed company, have not only become famous but a trusted
manufacturer
. To maintain our status and customers' trust in us, we are improving the way of production, bettering our products' reach in the market and indulging in consistent quality production.
An Inspiration To The Workforce
An inspiration to all 12 members in our workforce is
Mr. Shirshendu Sarkar (Partner)
. He is an intellectual, having not only knowledge but also talent to make difficult tasks in business turn easy. His ambition to make company stand at the top level in the industry is getting worked upon by skilled people at unit. From motivating to perform business activities well to helping in difficult business situations, he performs his duty genuinely.
Easy Payment Modes
In the modern times, where government is promoting business by introducing new acts, initiatives and schemes, we are giving our customers the flexibility of making payments easily. This step is taken by our company in order to help customers make payments as per their convenience. As a part of this flexibility, customers are welcome to pay us using both online and offline payment modes.
Why Us?
The name of NRB Enterprise is quite popular in India because it serves best of Lightning Strike Counter, High Mast Pole, High Mast Lighting Pole, Flag Mast Pole, GI Earthing Pipe and other products. In competition with long-standing enterprises, our company gives no chance to any customer to find any flaw in the entire range.
Reasons that has made us reach at the top of the list of companies serving best products are as follows:
Our advanced production method
Our hi-tech production and packaging machines
Our experts knowledge and experience
Our quality testing standards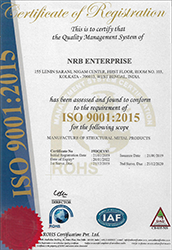 Get in touch with us